Triumph Rocket 3 R and GT Black First Look Photo Gallery
Triumph blacks out its Rocket 3 models for 2021 and now offers the Rocket 3 R Black and Rocket 3 GT Triple Black as limited editions for the new year.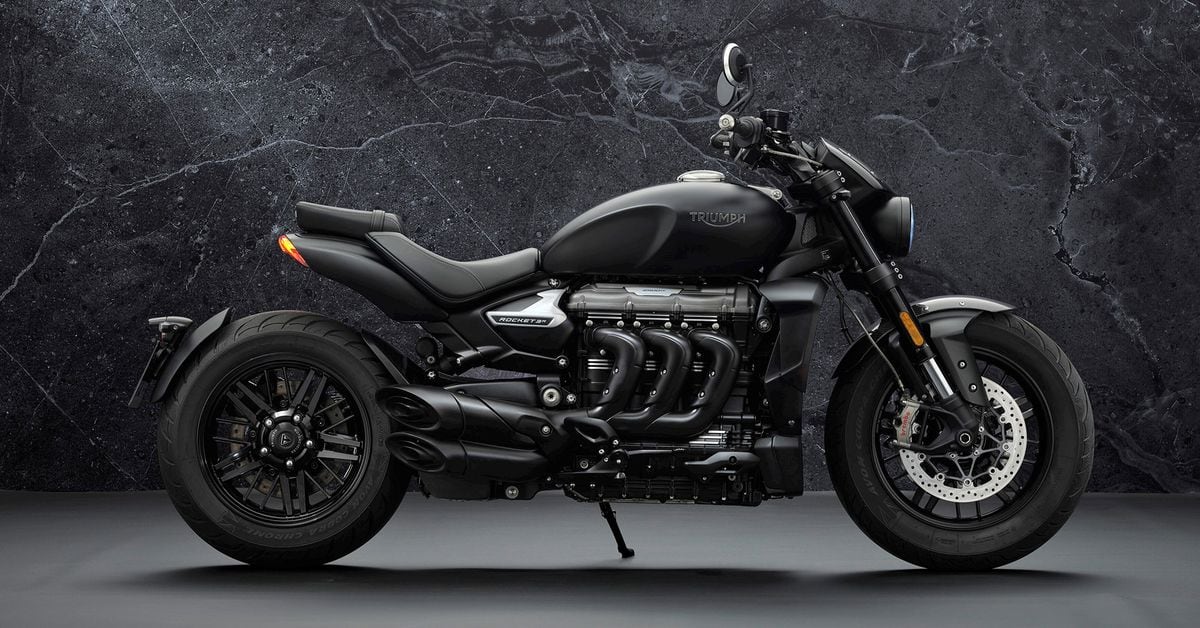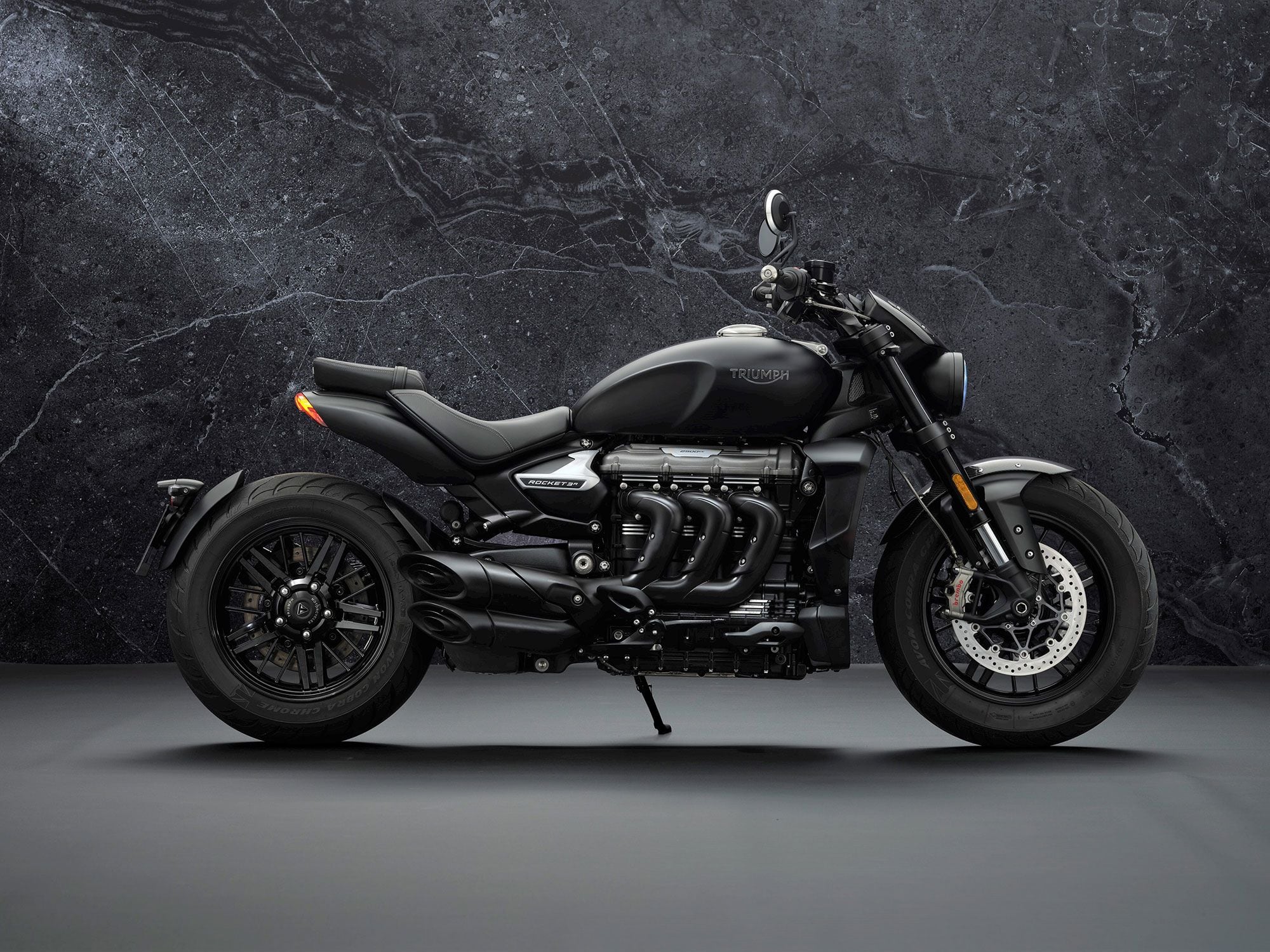 Triumph has released the Rocket 3 R Black and Rocket 3 GT Triple Black as limited-edition machines for 2021. (Triumph Motorcycles/)
When your product portfolio contains a machine packing the world's largest production motorcycle engine, the marketing copy pretty much writes itself. The Triumph Rocket 3′s 2,458cc inline-triple ladles on a few more superlatives as well, like the fact that it churns out the highest torque of any factory bike—Triumph claims a peak of 163 pound-feet—with hefty horsepower claims to match (165 hp, according to Triumph). Given numbers like that, you figure there'll be no shortage of interested eyeballs feasting on your bad boy brawler for years to come. But apparently that wasn't enough for the bigwigs in Britain, so for 2021 someone decided it was time to throw some dark paint on their big cruisers, make fewer, and call them Black.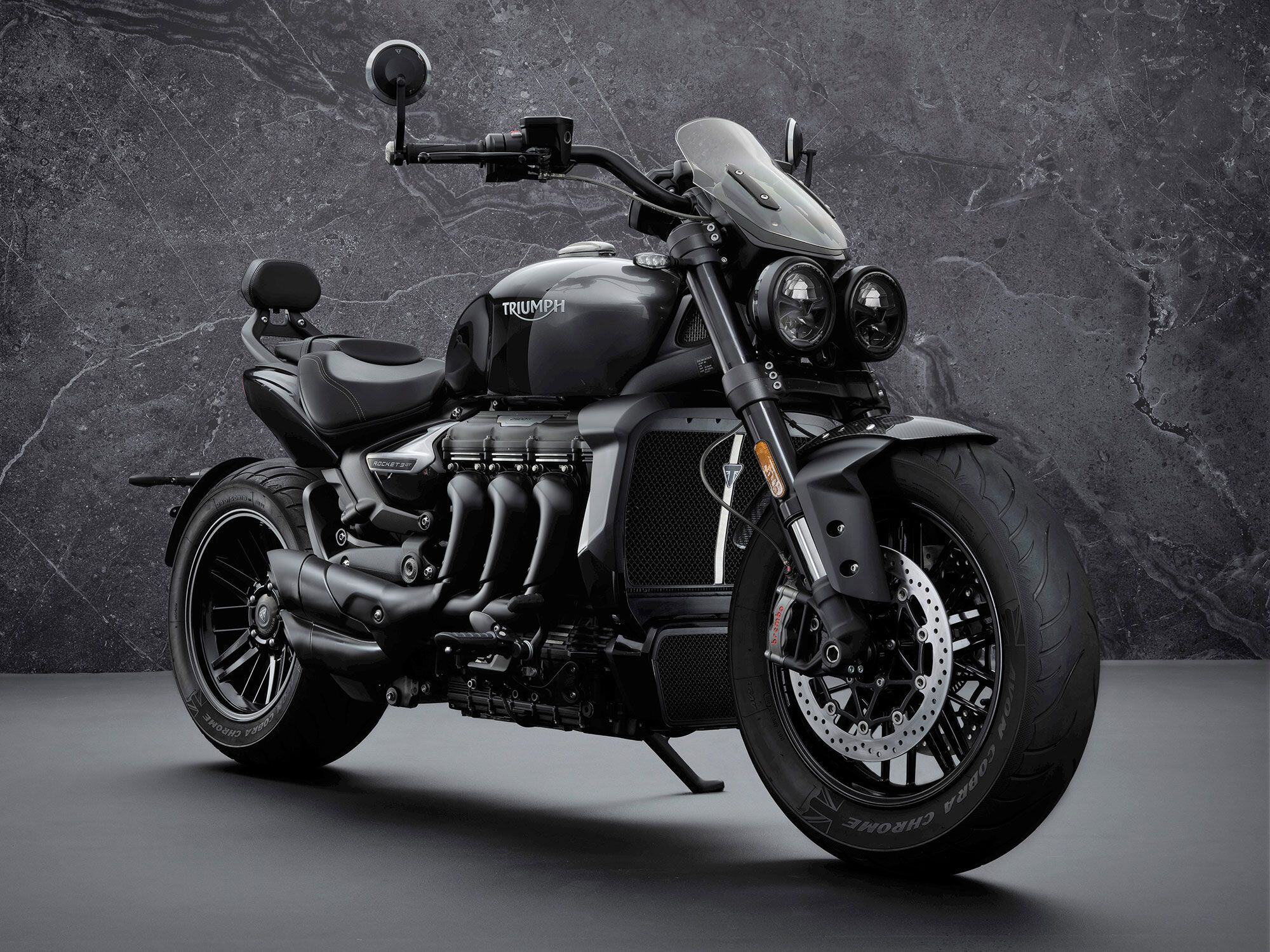 The Rocket 3 GT Triple Black keeps its touring-biased stance, but gets a distinct color scheme from the R Black. (Triumph Motorcycles/)
Colors? We don't need no stinking colors. As the names imply, both of these limited-edition Rockets are completely done in the darkest of tones, though there are some gradations between them. The more minimal Rocket 3 R Black keeps its street-tough tone with a matte and gloss all-black paint scheme, featuring black tank badges and "black" branding, while the touring-friendly, plush Rocket 3 GT Triple Black goes for a distinctive three-shade paint scheme that amps its globe-trotting intent.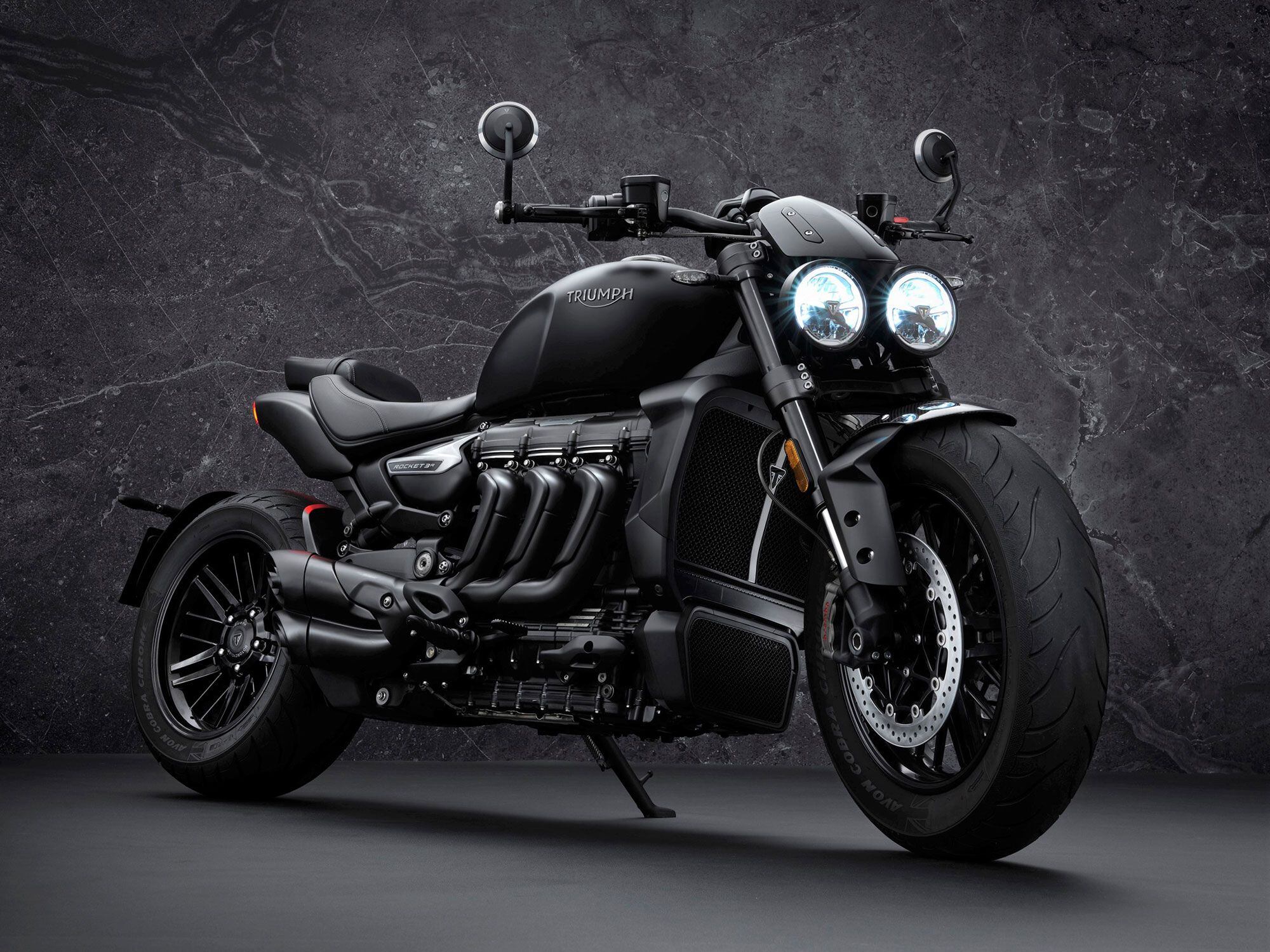 The Rocket 3 R Black goes all-in with matte or anodized finishes on the majority of its surfaces. (Triumph Motorcycles/)
Even doused in black, somehow the focus still remains on the big triple powerplant, which gets a darker finish along with a crinkle-black-coated intake cover and black-painted exhaust headers. Downstream from there you'll see black exhaust shields, with the black-out business continuing across both models on the headlight bezels, radiator cowls, windscreen finishes, and rear bodywork fasteners, all of which get a deep dark hue. The forks also get murdered out, with anodized lowers splashed in the inky stuff, as are the yokes, risers, and handlebar clamps. Classing things up at the front are carbon fiber fenders on both bikes, further setting these limited-edition Rockets apart from the base models. Both bikes also get black anodized bar-end mirrors; in fact, most of the silver stuff from the standard Rocket 3s gets doused in black, from brake and clutch levers, footrests and their hangers, swingarm guard, brake and gear pedals—even the sidestand.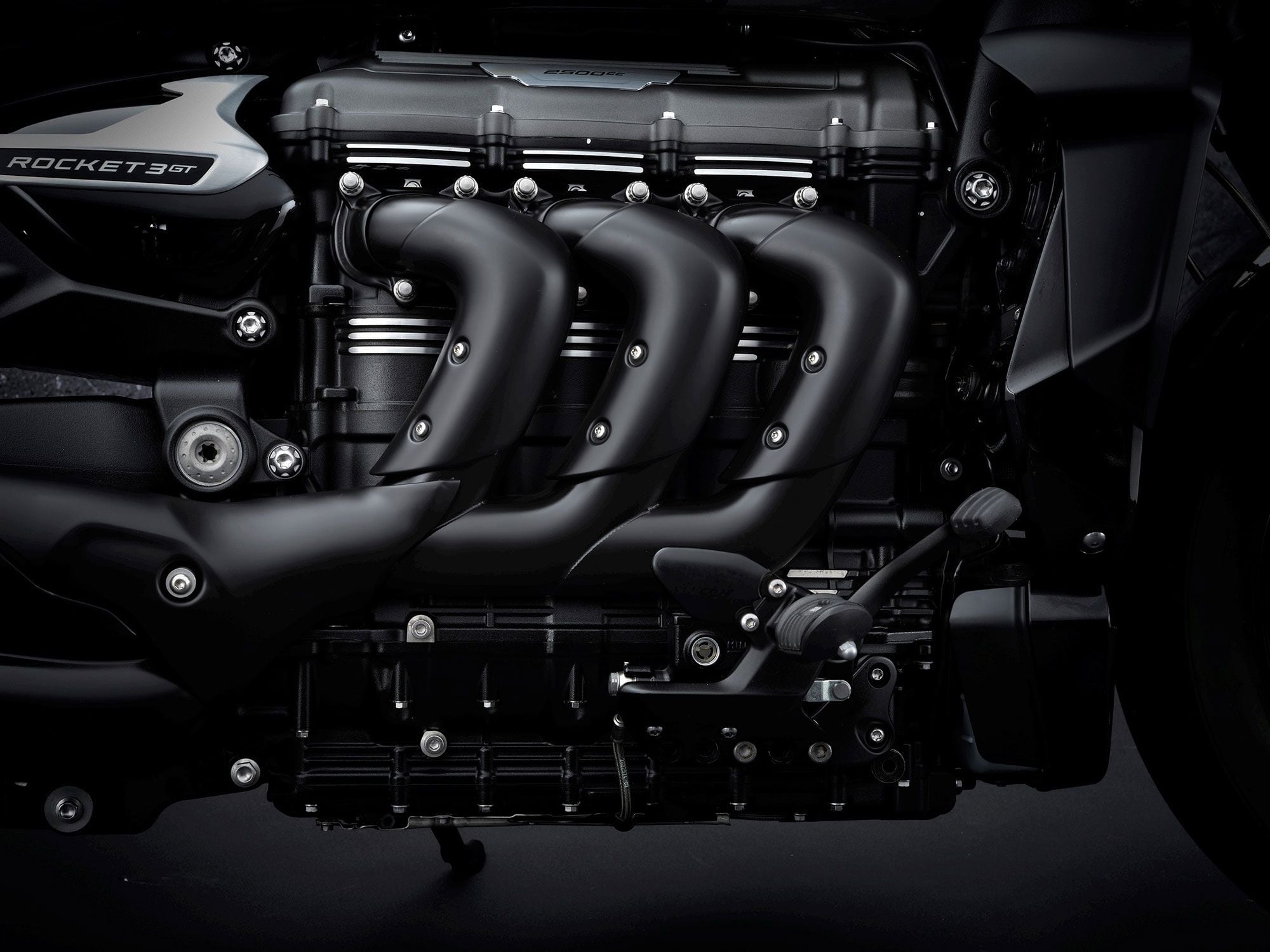 Both bikes retain their monstrous 2.5-liter powerplant, which now features black-painted hydroformed exhaust headers, heat shields, and end caps. (Triumph Motorcycles/)
There's nothing particularly groundbreaking on either of the new Black and Triple Black machines; you get the same underpinnings found on the more colorful standard versions but that's still a fairly tasty bit of kit, with stuff like a lightweight aluminum frame (with blacked-out rear frame forging on the Black editions, of course), 47mm USD adjustable Showa forks, high-spec Brembo Stylema Monoblock brakes with floating discs and 20-spoke cast wheels, with a fully adjustable Showa monoshock RSU with piggyback reservoir holding down the rear suspension duties.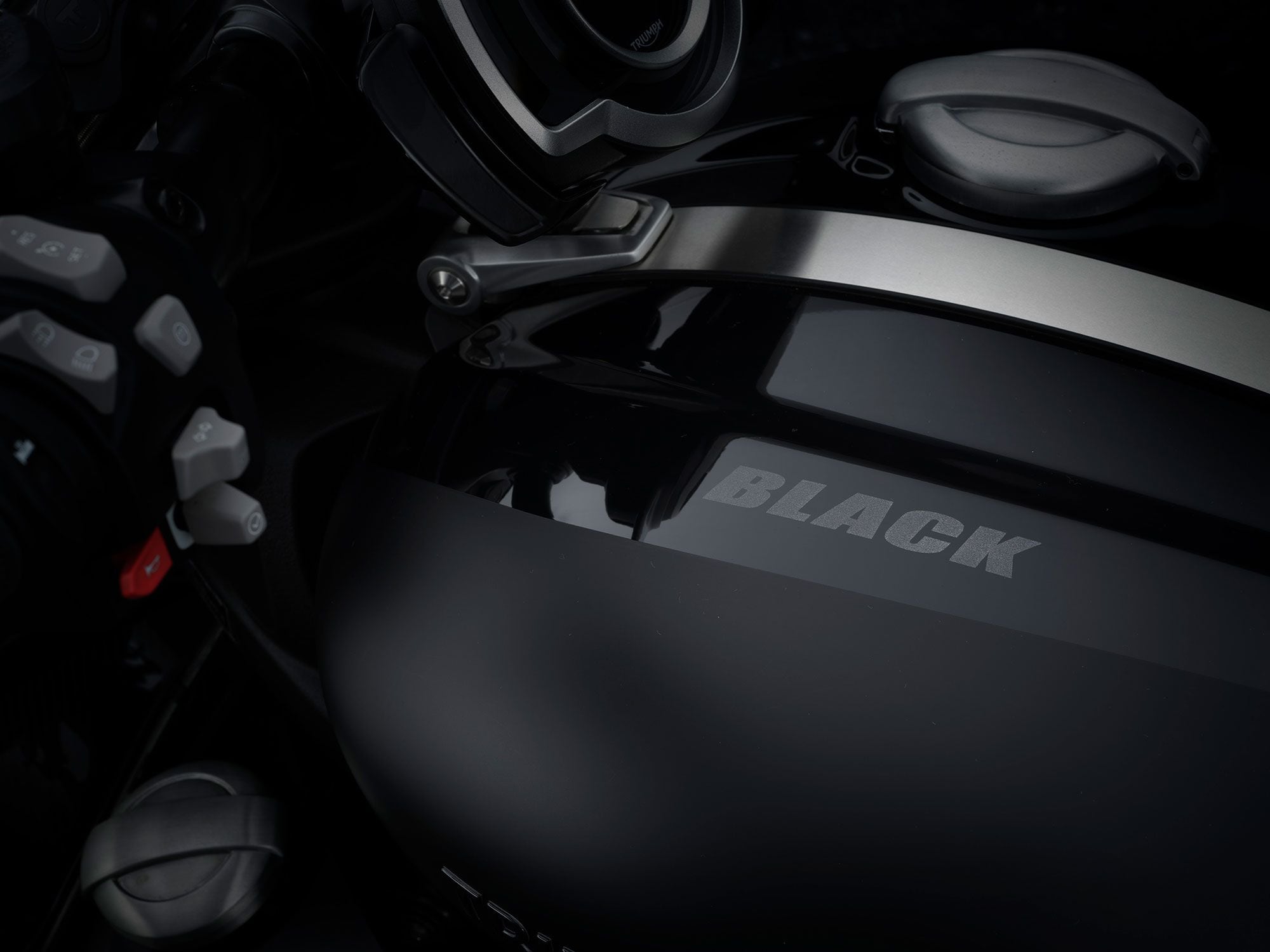 Understated, moody, whatever you wanna call it, the Rocket 3 R Black wears its limited-edition status subtly. (Triumph Motorcycles/)
On the GT Triple Black, the touring bias remains, with a dedicated shield, laid-back ergos, and heated grips, along with that plush (and adjustable) passenger pillion to keep your companion in check when you launch a fourth-gear wheelie, but the color scheme here is less monotonous than on the companion R Black. Instead of a brooding all-matte black, the GT spices things up with variations on the ebony stuff, ladling on some gray and silver tones in between the darkness, particularly on the tank. On both models the footpeg position can also be adjusted, and the limited edition's pillion footpegs can be hidden via an elegant folding design, which again, comes in a unique black finish.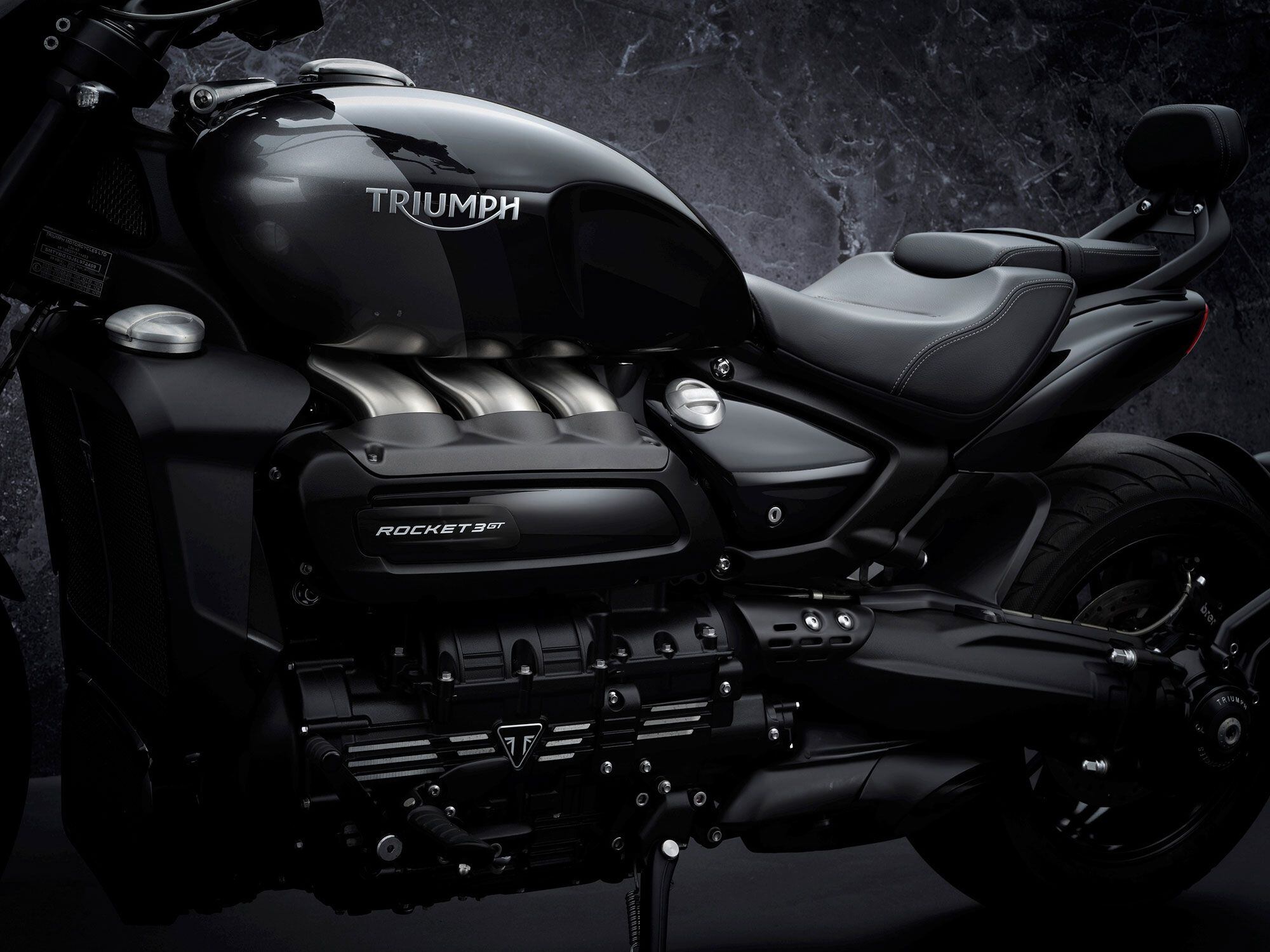 The GT Triple Black also switches up the color scheme with lighter accents and a unique three-shade paint on the tank. (Triumph Motorcycles/)
RELATED: 2020 Triumph Rocket 3 R And 3 GT Review First Ride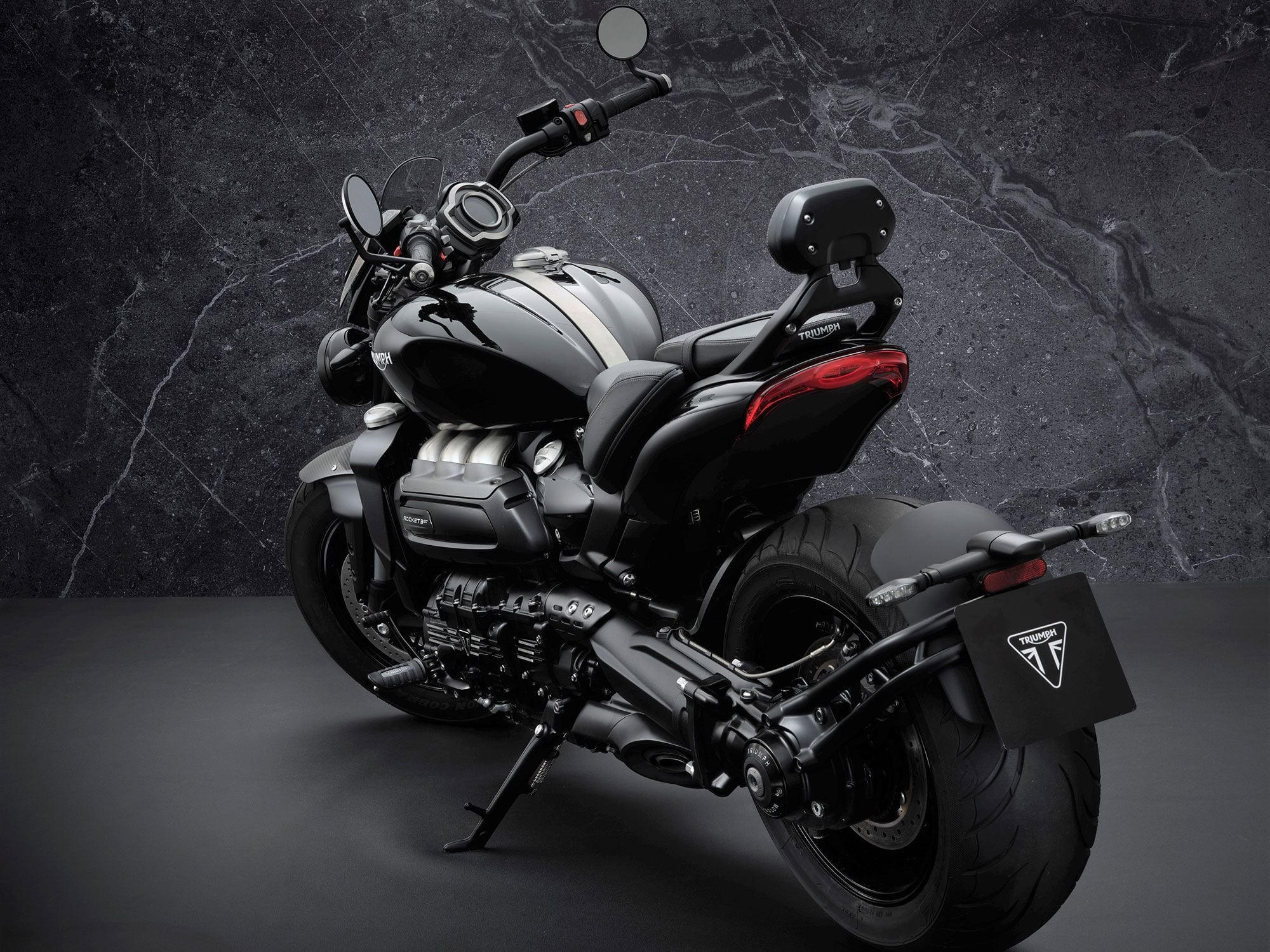 The swingarm guard and even details like the sidestand, bar-end mirrors, footrests, and brake pedal were blacked out. Shown is the GT Triple Black. (Triumph Motorcycles/)
All the rider tech that comes on the regular Rockets is here too, with Optimized Cornering ABS and traction control and four riding modes as standard issue, and all accessible on the TFT display (which can be configured with the optional My Triumph connectivity system). LED lighting, hill hold control and cruise control, a keyless ignition and steering lock, and USB charging socket all remain as standard equipment as well.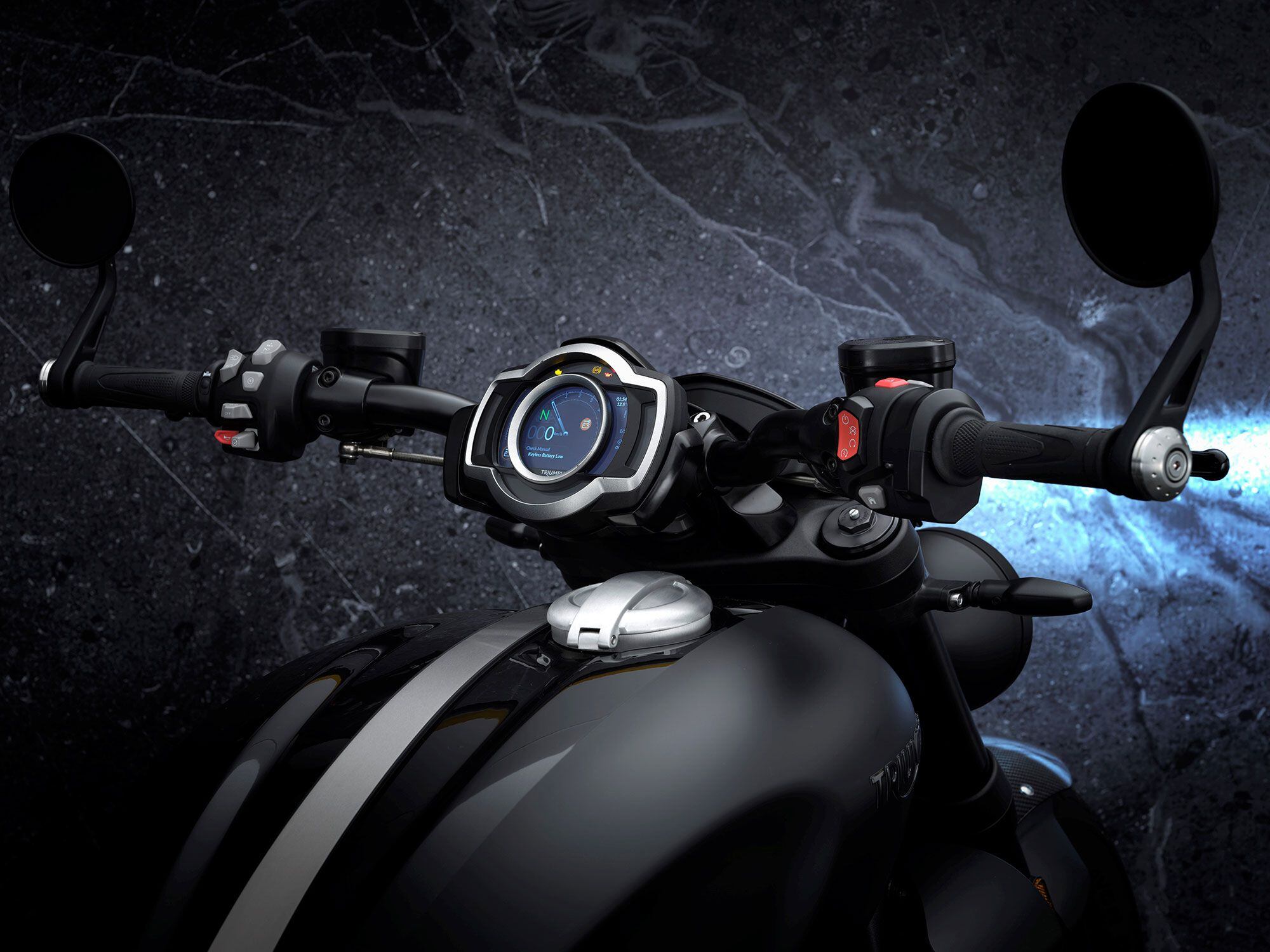 Four riding modes come standard, and the TFT dash can be configured for the My Triumph connectivity app. Shown is the Rocket 3 R Black cockpit. (Triumph Motorcycles/)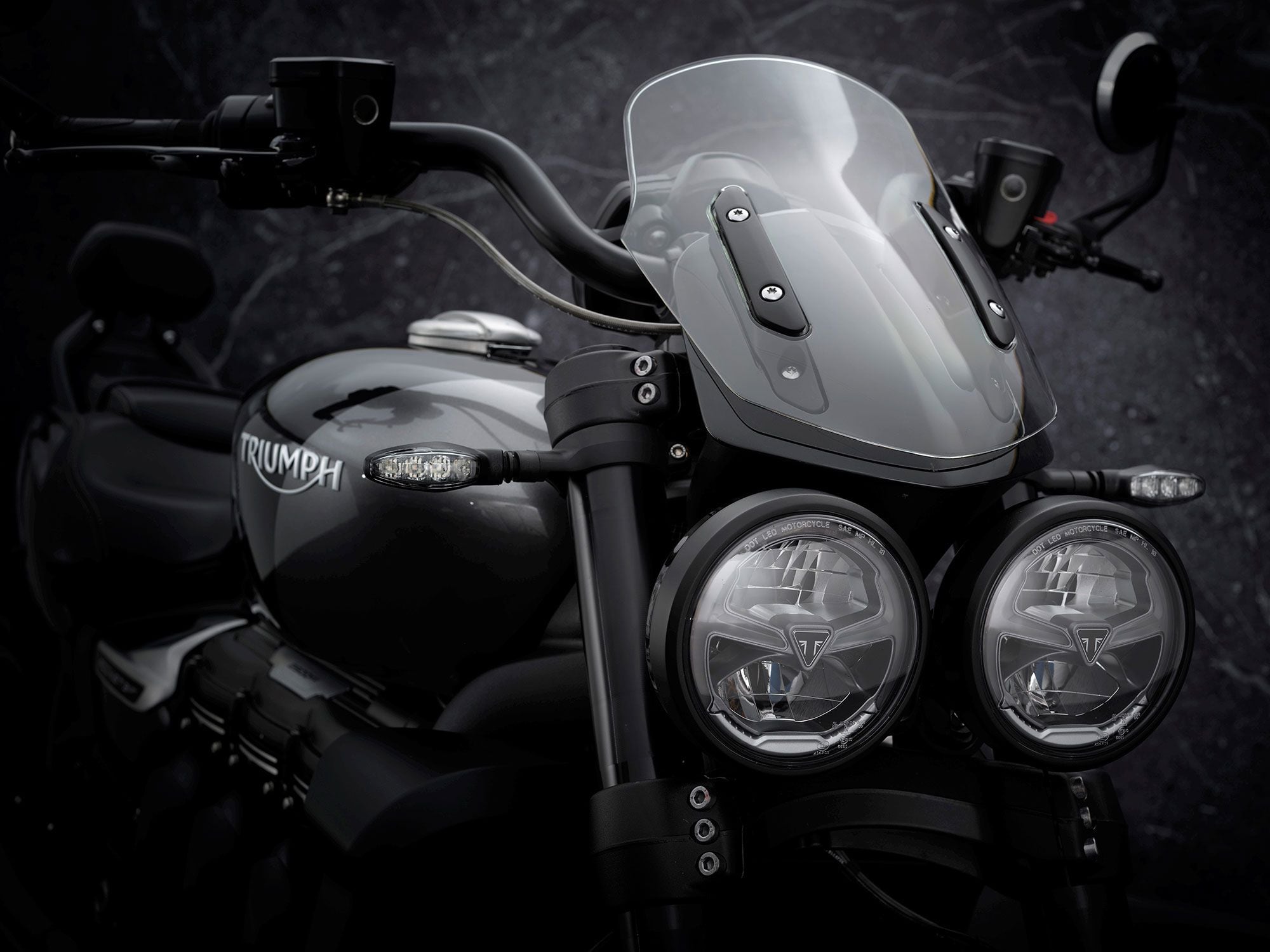 The GT Triple Black presents a touring screen and in certain markets offers DRL lights. (Triumph Motorcycles/)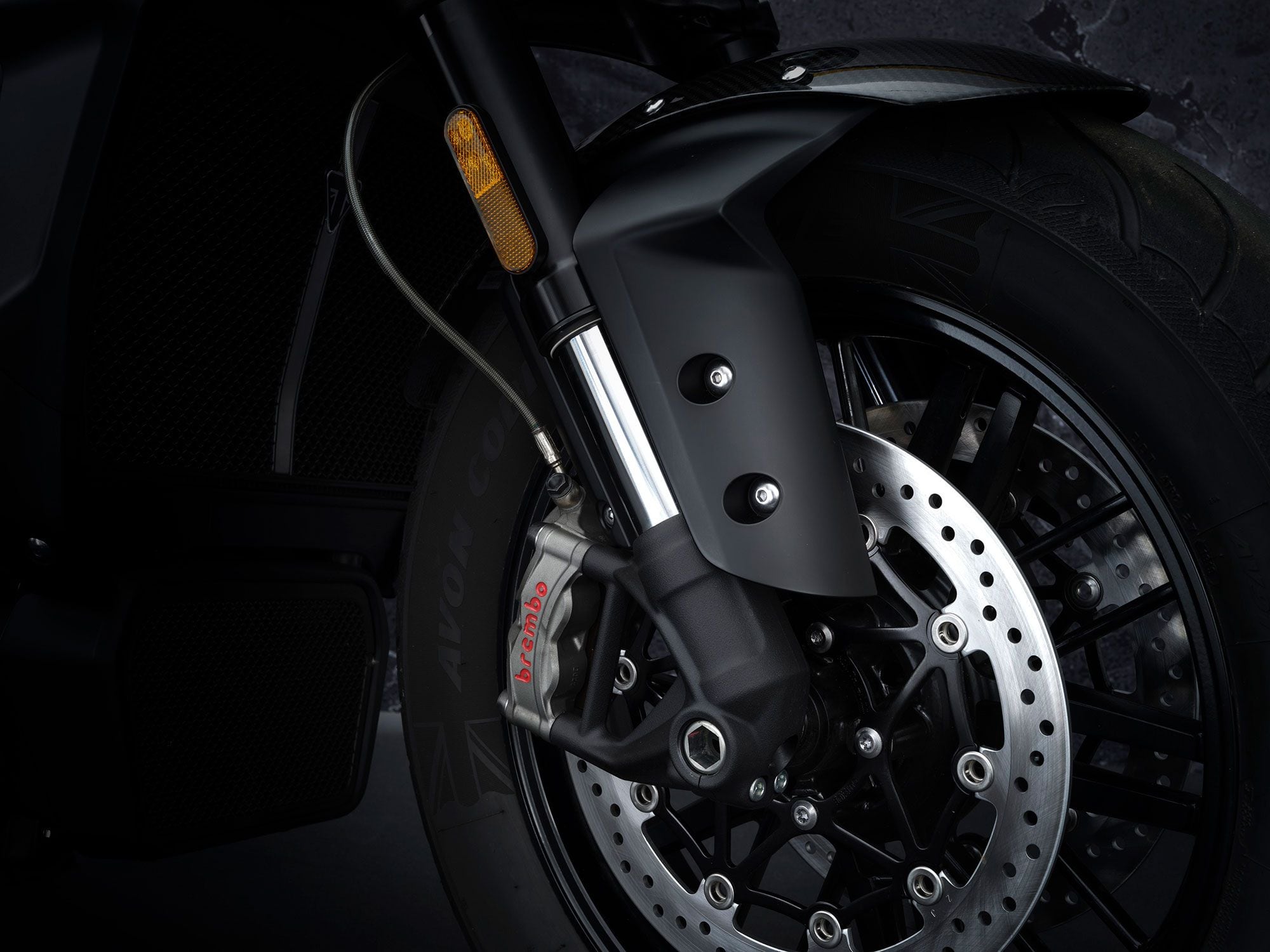 The brakes are high-end Brembo Stylema units with dual floating discs up front. (Triumph Motorcycles/)
Both bikes will come with a certificate of authenticity detailing the motorcycles' specific VIN number, and the bikes will be limited to just 1,000 units worldwide.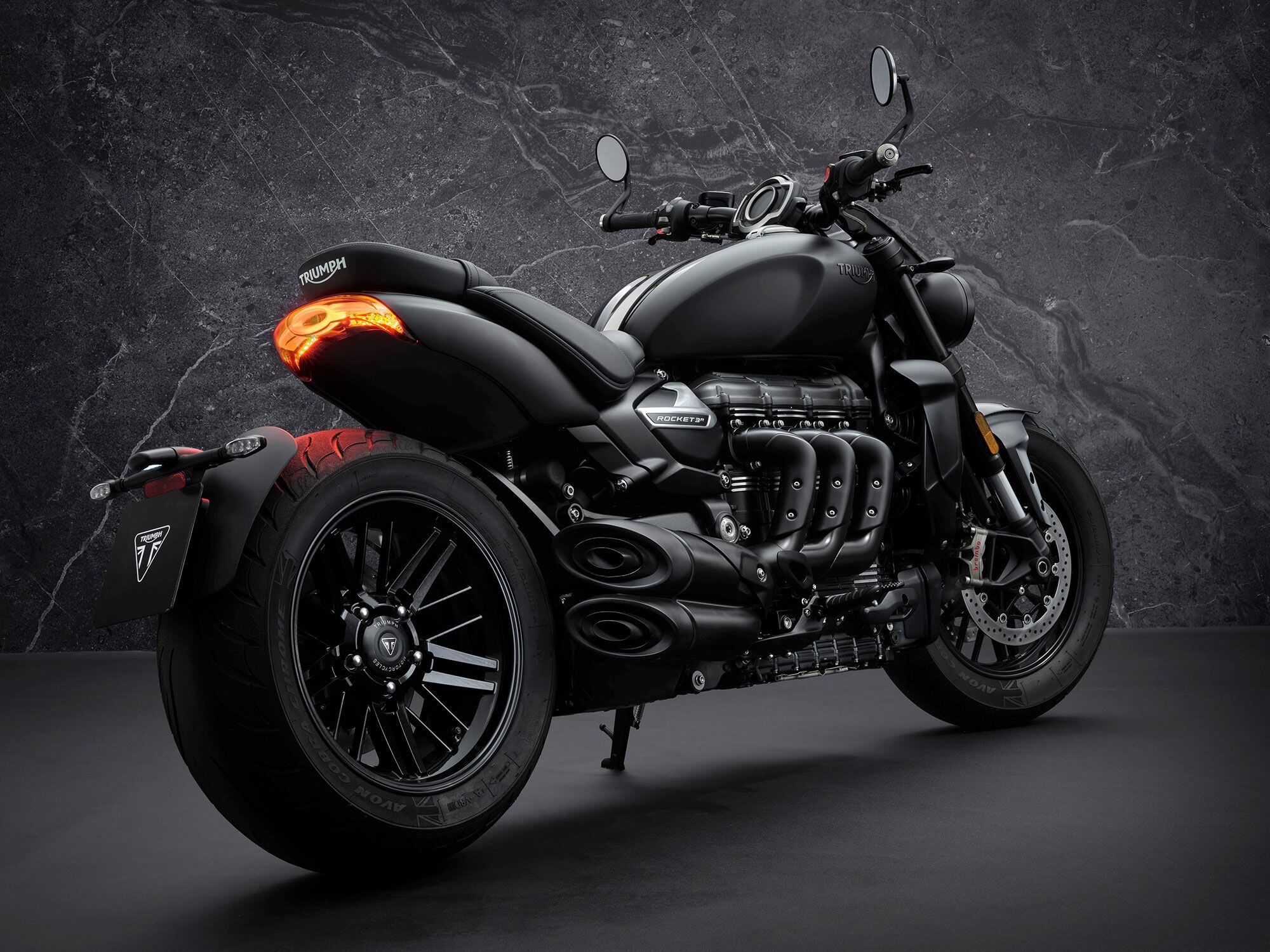 View the 20-spoke wheels in black on the Rocket 3 R Black. (Triumph Motorcycles/)
The GT Triple Black edition will have a price starting from $24,400, while the moodier Rocket 3 R Black will run you $23,700. By comparison, the standard Rocket 3 retails for $22,500, while its GT brethren will ding you to the tune of $23,200.
What's Your Reaction?